Still Doing Your Own Prototype Design? GAIA Can Help!

Still Doing Your Own Prototype Design?
GAIA Converter has developed a series of test jig printed circuit boards intended to ease GAIA's modular product testing and evaluation for your application.
The evaluation boards come with a service manual that includes board schematic diagrams, layout, bill of materials, and outlines a simple process by which to populate the prototyping test jig.
Six different prototype boards are available to support power levels from 8Watts up to 500Watts
Unpopulated Prototype Board
All component placements, values, and recommended spacings are provided for ease of assembly.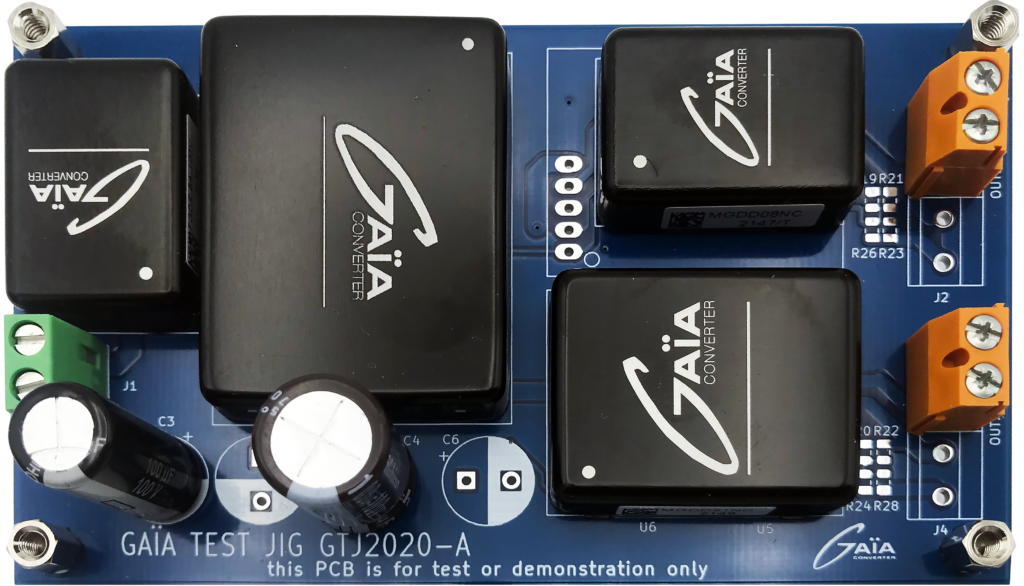 Mount your power modules of interest for fast and complete testing without design and layout hassles.
Want More Applications Help?
GAIA Converter library of application notes offer valuable information on the use of our DC/DC and AC/DC power converters, and cover a wide variety of information subjects, including:
Thermal management techniques
Output ripple and noise mitigation
Modular power architectures for Avionics, Military, and Commercial
Multiple voltage sequencing solutions
And More!
High-Rel Grade DC-DC modules are
designed specifically to meet key
Avionics/Defense performance
specifications for bus input compatibility,
EMI/RFI requirements, severe
environments and operating temperatures
of -40°C to +105°C (-55°C also available).
This line of products satisfies the
Department of Defense for Non
Development Items (NDI) and
Commercial Off-The-Shelf (COTS)
equipment.