Speed up your qualification process and reduce your time to market
GAIA Converter PCB evaluations provide enablement hardware for a fast AC/ DC and DC/DC converters evaluation.
With our PCB evaluation, engineers designing solutions with GAIA Converter DC power products will be able to speed up their testing and qualification process and reduce their time to market.
Consult factory for sample(1).
(1) Please note that these PCBs are meant for evaluation and testing purposes only.
GTJ2020 empty test JIG rear view
Board dimension: 2.55″ x 4.3″ – 6,5 cm x 11 cm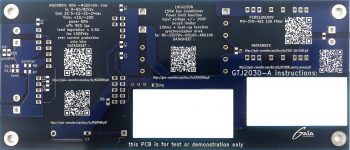 GTJ2030 empty test JIG rear view
Board dimension: 2.5″ x 5.9″ – 6,4 cm x 15 cm
GTJ2040 empty test JIG rear view
Board dimension: 3.7″ x 7.3″ – 9,5 cm x 18,6 cm
GTJ2050 empty test JIG rear view
Board dimension: 2.75″ x 8.25″ – 7 cm x 21 cm
GTJ2060 empty test JIG rear view
Board dimension: 4.3″ x 6.5″ – 10,9 cm x 16,5 cm
GTJ2070 empty test JIG rear view
Board dimension: 3.9″ x 7.1″ – 10 cm x 18 cm
Dedicated DC/DC architecture