Modular Solutions From Gaia Can Do It!

Having Trouble Configuring Your Power Chain?
Modular Solutions From Gaia Can Do It!
Using the MGDM-500 series DC/DC Converter and leveraging the effectiveness of the FGDS-35A series EMI Filters combined with the LGDS-600 series Transient Protection modules, building 500W Power Architectures compliant with the MIL-STD-1275 or the DO-160 has never been so easy to accomplish.
This modular architecture can provide up to 500W in a compact 7.4 sq. inches area, with a 9-36 Vdc input range and provides 12, 15, 24, 28, or 48 Vdc output voltages. It is within compliance in all revisions of the MIL-STD-1275, the MIL-STD-704-, DO-160, GAM-EG13B / AIR2021E standard specifications.
Ultra compact 35A / 50V common & differential modes EMI filter.
Mil-STD-461D/E/F Compliant
DO-160C/D/E/F/G Compliant
Input immunity for Mil-STD-1275A/B/C/D
Input immunity for Mil-STD-704A/D/F

LGDS-600
Transient Protection
Transient suppressor 60 Vdc, 80 Vdc, 100 Vdc
Power range : from 4 W to 600 W
Galvanic isolation input/output: non isolated
Protections : reverse polarity, over temperature
Trim adjustment : 80% to 110%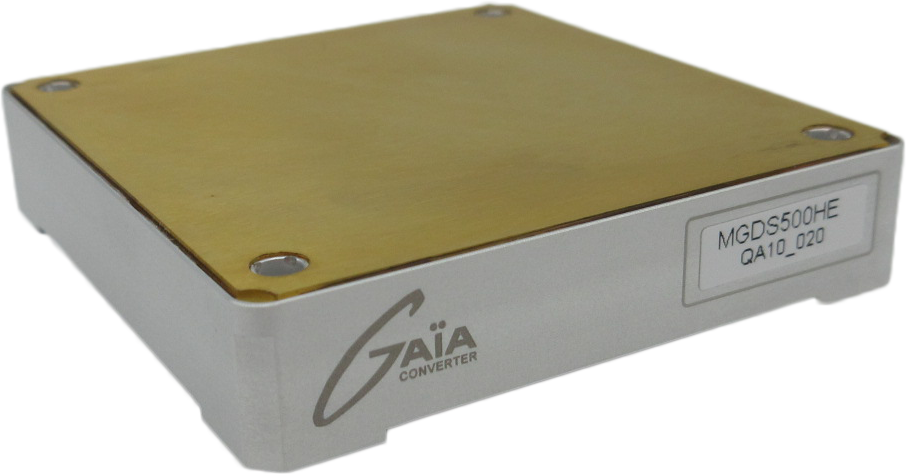 Standard half brick package
Single output
Soft start
No load to full load operation
No optocoupler for high reliability
Nominal power up to 500W
Galvanic isolation 1 500 VDC
High-Rel Grade DC-DC modules are
designed specifically to meet key
Avionics/Defense performance
specifications for bus input compatibility,
EMI/RFI requirements, severe
environments and operating temperatures
of -40°C to +105°C (-55°C also available).
This line of products satisfies the
Department of Defense for Non
Development Items (NDI) and
Commercial Off-The-Shelf (COTS)
equipment.