GPack Series Configurable Power Supply unit
Configurable 800W DC/DC power supply
MIL-STD-704 & 461 or DO-160 compliant
4 independent outputs (parallel or series connections possible)
Full-load conduction cooled operation
Compact size measuring 7.1 x 4.7 x 2.4" | 180 x 120 x 60mm
Wide input voltage range:
–  9~45Vdc (transient 60Vdc/100ms)
– 16~80Vdc (transient 100Vdc/100ms)
Inrush limiter and reverse polarity protection,
On/Off controls
Synchronization and OTP signals
No load to full load operation
Up to 88% efficiency
The new GPack family of power supply systems provides a configurable turnkey power subsystem design for 24/28/48Vdc applications in avionics, naval or military applications complying with DO-160 and MIL-STD-704 & 461 standards, including inrush current limitation and reverse polarity protection. It provides up to 800W power in an extremely compact 180 x 120 x 60 mm package with conduction cooling.
The GPack can be configured with 4 slots of 200W each. Outputs can be used independently or connected in parallel for higher power or in series for higher voltages. Configurations can be made by the user, or are pre-configured at the factory, allowing for maximum flexibility and versatility.
The GPack includes a complete set of controls and monitoring functions, including general remote on/off control, local on/off on each output for sequencing, synchronization function from external clock or up to 3 GPacks together.
For each output, voltage and output current limit can be trimmed, the share function can be used for parallel operation, and remote sense is available too.
Up to 3 GPacks can be connected in parallel to reach a 2.4KW power block. The block diagram shows the GPack internal functions.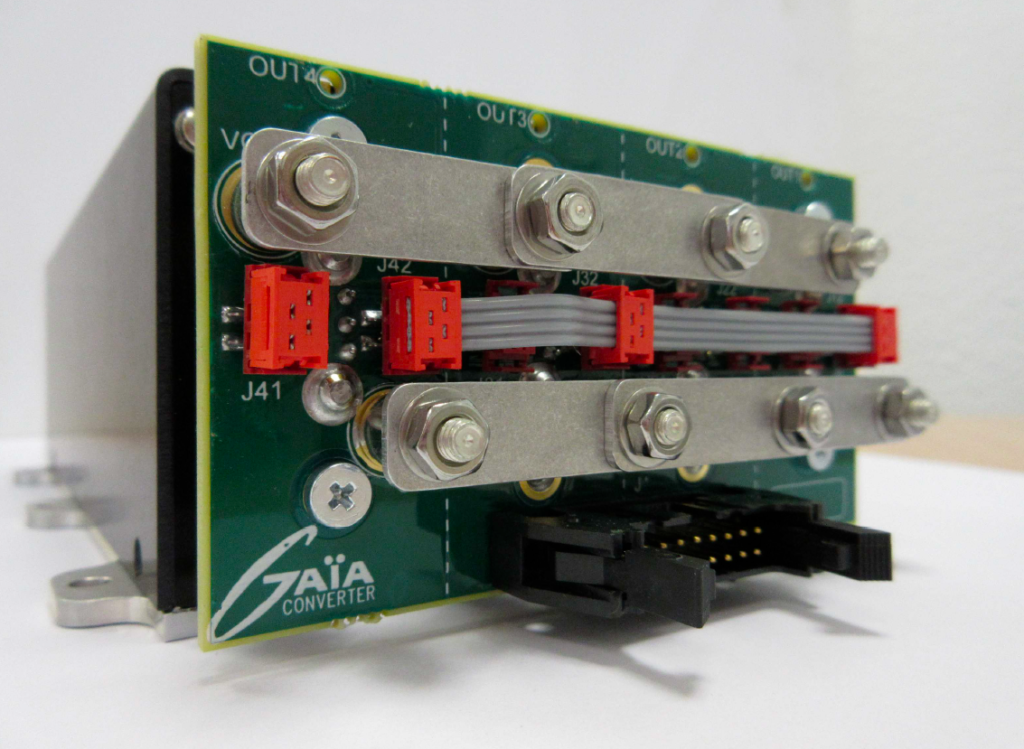 Optional pre-configured output board
As a pre-configured option, an additional external board is provided to ease output connections with the external load. The GPack is delivered mounted and tested with its standard board configured upon demand with bus bars.
Bus bar connections are provided for output in parallel or in series. The dedicated screws on bus bars serve for application connection.
The board also provides LEDs to monitor output presence. If needed, an additional "dongle" is included in the connector for trim functionality.